Secretary of Energy Visits Kairos Power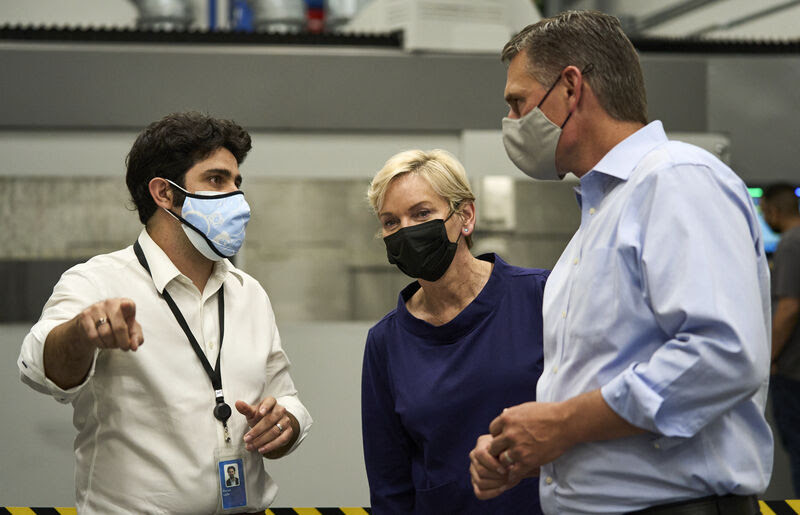 On August 18, Kairos Power welcomed U.S. Department of Energy (DOE) Secretary Jennifer M. Granholm and Senator Martin Heinrich at their KP-Southwest testing and manufacturing center in Albuquerque, New Mexico. They were given a tour of the facilities following the Senate passage of the bipartisan Infrastructure Investment and Jobs Act – a historic piece of legislation that includes investments in clean energy.
On their LinkedIn page they wrote
"We are grateful to be among community members, local leaders, and organizations whose efforts are recognized as positively supporting New Mexico's clean energy transition and the nation's decarbonization goals... We would like to extend gratitude to our KP-Southwest team members who worked with flexibility and grace this week to enable a very successful and exciting tour of our facilities."
Kairos currently has over 200 full-time team members and expect to creat at least 65 more high-skilled and high-paying jobs in Albuquerque to support major hardware demonstrations.
Later that week, DOE Secretary Granholm also paid the Lawrence Berkeley National Lab (LBNL) a visit. Kairos' Co-Founder and Chief Nuclear Officer, Professor Per Peterson (UC Berkeley, LBNL) commented, "It's excellent to have strong policy support for clean energy including nuclear."
Similarly, the department celebrates this step towards more clean energy!